At Pandora Nail Spa, your safety and the cleanliness are our top priorities. It has been a remarkably difficult year for all of us but here we are again. As we were preparing to open our business again, we have added some of the procedures taken all necessary precautions to make sure you not only feel safe but also conformable while visiting us.
We are in this together. Please read our new procedures and practices during the COVID-19 pandemic. Your cooperation is greatly appreciated as it will help us to keep our customer and staffs safe. Thank you for trusting us and supporting our business.
For our customers:
If you are not feeling well or have been around someone who has tested positive with COVID-19, please wait at least 10 days to make your appointments.
Appointment is not needed, walk-in is welcome, but it will help us to better arrange time for your service if you can give us a call ahead of time.
Your temperature will be taken upon entering. We may need to refuse the service if you have symtoms.
A mask that fully covers your mouth and nose is required to be worn at all time.
Please maintain 6-feet social distance from other clients and other technicians.
Hand sanitizer and disinfectant wipe are placed around the spa. Please do clean your hands often if possible.
For our staffs:
Each employee is required to wear fully covered mask at all time.
Each employee will have a designated area for lunch and brunch.
Each employee is allowed to leave any time to take care of their family, so we do not have a fixed schedule for everyone.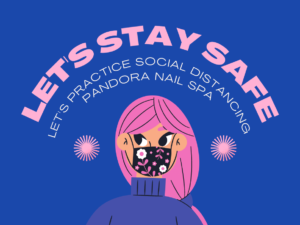 Share